Labrador Retriever Stuffed Animals
Stuffed Labrador Retriever plush toys in a variety of sizes and styles.
Melissa and Doug Black Lab Giant Stuffed Animal
This black lab is an excellent ambassador for its breed! Known for its gentle behavior, this adorable pet features authentic details and top-quality construction. 24" tall x 11" wide x 31" long.
---
Melissa and Doug Yellow Lab Giant Stuffed Animal
The most faithful and lovable yellow lab ever! Known for its gentle behavior, this fetching pet features authentic canine details and top-quality construction.
---
Chocolate Lab Plush
This is one big Chocolate Lab plush, almost 16 inches long while lying down! And while this Chocolate Labrador Retriever stuffed toy is big, it is still small enough to lay on your bed with you (while your own Chocolate Lab lays at the foot of your bed).
---
Yellow Lab Plush
This Yellow Lab plush is far too soft and cuddly to sit on the bed all day. Buckle him into the seatbelt and take him with you everywhere you go. At 16 inches long, the Yellow Labrador plush is the ideal size for hours of hugs and smiles, for you or any stuffed animal collectors you know. You're bound to get tons of compliments on your Yellow Labrador Retriever stuffed toy.
---
Black Lab Plush
If you are a Black Labrador fan, this high-quality stuffed animal will be the perfect companion in your house or apartment. Stuffed with the finest materials, he measures approximately 12 inches long. A real charmer.
---
Melissa and Doug Sunny Yellow Lab Puppy Dog Stuffed Animal
Everyone knows how sweet and well-behaved yellow labs are, and Sunny is no exception! With her slightly weighted paws, she can "sit" and "stay" just where you put her. She has an endearing face, with shiny eyes and a velvety nose, and a soft snuggly body.
---
Melissa and Doug Benson Black Lab Puppy Dog Stuffed Animal
Benson is the ideal pet for any dog lover! His bright eyes and shiny nose attest to his excellent "health" and his adorable face expresses his sweet disposition. Benson has a soft, furry 10 inch body and his slightly weighted paws help him "sit" up.
---
Aurora 12" Babies Lucky Labrador Puppy
---
Manhattan Toy Waggles 6" Starr Labrador
Handcrafted European style lifelike stuffed plush Yellow Labrador Puppy from Hansa. Standing. 14 Inches Long. 9 Inches Tall.
---
Hansa Stuffed Yellow Labrador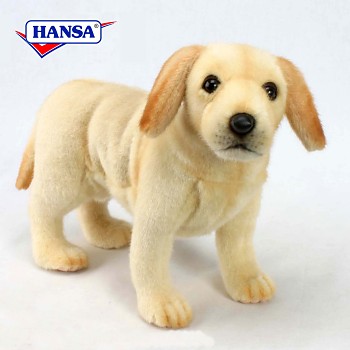 ---
MORE STUFF FOR LAB LOVERS:
LABRADOR RETRIEVER CHECKS | CHECKBOOK COVERS | ADDRESS LABELS | STATIONERY | CALENDARS | MAGNETS | HOME DECOR | FIGURINES | STUFFED ANIMALS | COFFEE MUGS/CUPS | EARRINGS | CHARMS | CLOTHING | GIFTS | CHRISTMAS ORNAMENTS
---